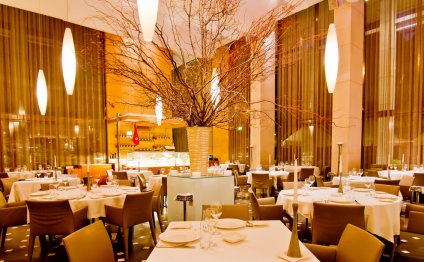 Athens Greece best restaurants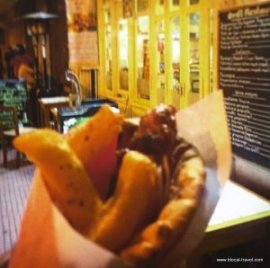 From the very heart of the Mediterranean basin, Greek cuisine is made up of a wide variety of dishes mirroring the long history, the variegated landscape and the crossroads' nature of this country. From my personal experience in Athens Greek cuisine is full of meat (it was literally everywhere!) as traditional fish dishes are more likely to be found on the islands, vegetables and tasty savory pies (tyropita –the one with cheese- and spanakopita –filled with spinach- a.k.a. the Greek version on my beloved Balkan burek). Wandering around downtown Athens you will find plenty of nice restaurants, taverns and cafés: here is a selection of my favourite ones!
Καλή σας όρεξη!
Enjoy your meal!
Athens Foodie Guide > FOOD MARKETS
Not only foodies, but any visitor can't miss a tour of Athens' Central Market (Varvakios Agorà, on Athinas street between Evripidou street and Sofokleous street).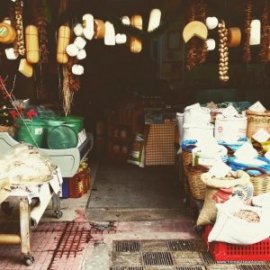 During my week in Athens I went there three times: once to visit it, once to eat at its restaurants and again on my last day in town to buy some presents to bring back home, such as Greek olives, cheeses, spices and herbs.
The market is divided into two main sections: the open-air part where you will find fresh fruits, vegetables, spices and the world-known Greek olives, while within the 19th century iron-and-glass complex you will find meat and fish counters, plus some very local cafés and small restaurants to try some authentic Greek food.
The Central Market is among the places where I detected Athens' Balkan vibe at its best: vendors shouting their prices, ladies glancing at the food counters with their well-practiced look, lots of kiosks on the streets surrounding the market complex, elderly Greek men slowly sipping a coffee at the bars within the market place while "supervising" the situation and that vibrant atmosphere always traversing any bazaar in any corner of the world.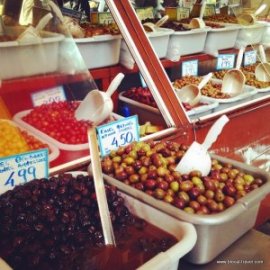 As I said, once I also came here to eat: I entered one of the many small eateries within the meat-and-fish complex, I pointed at some Greek specialties through the window and tasted them with a bottle of Greek beer. The food was very good (where else could you find fresher food, anyway?), but I especially liked the atmosphere of that restaurant: both the owner and the old people sitting beside me wanted to know if I liked the food and from there they started an interesting chat about some basics of Greek cuisine and the differences between the seaside cuisine (mostly known in its Cypriot version) and the culinary traditions of the Attica region.
If you are into food and food markets, as I am, you should also know that Saturday is the day of farmers' markets in Athens: each neighbourhood has its own farmers' market and I visited the one in Exarchia and the one in Perissos, both very interesting for the way they mingle with the characteristic traits of the neighbourhood where they take place.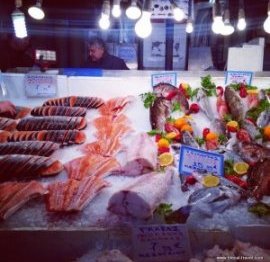 At the farmers' market in Exarchia (Laiki Agora, Kallidromiou street) the backdrop to every stand is a street art mural, as Exarchia is known to be the colorful neighborhood of anarchist students. Some of these murals are about politics, as suits this ever-rebellious neighbourhood surrounded by police squads in full riot gear, others are just beautiful, and the mixed effect of the street art and the farmers' products will amaze you!
Located in a former industrial area in the northern suburbs of Athens, the farmers' market in Perissos (Laiki Agora, Salaminos street) will surprise you with its abandoned chimneys appearing behind the stands. Nearby you can also enter a former factory now transformed into a huge supermarket: the big industrial structure is just few steps away from the farmers' market.
Athens Foodie Guide > RESTAURANTS

Address: Eptachalkou 5
On my first night in Athens I ate at this traditional Psistaria (a restaurant serving grilled meat) in the nice area of Thissio, just outside the tourist radar. This is an authentic eatery frequented by locals, very simple and definitely not pretentious. Here I had a cabbage salad and some very tender lamb chops, served with a glass of the house wine: it was one of those especially welcoming dinner that gives you a foretaste of all the delicious meals coming next!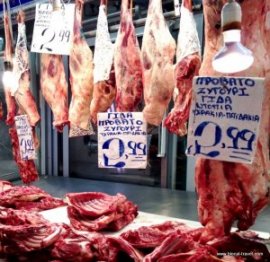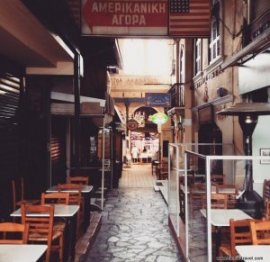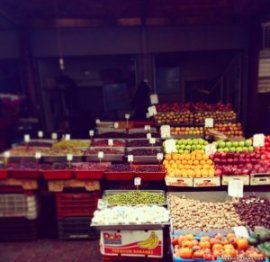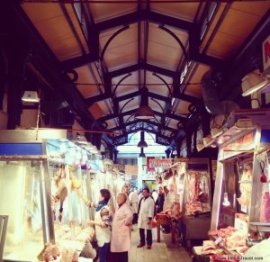 Source: www.blocal-travel.com
RELATED VIDEO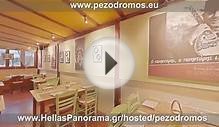 Pezodromos Music Restaurant Athens Greece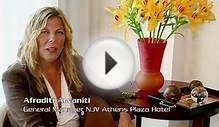 NJVAthensPlaza_hotel_official_video
all senses gastronomy Athens Greece Best Sensory Restaurant
Share this Post
Related posts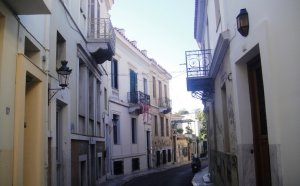 DECEMBER 06, 2023
The Sacred Way The Sacred Way is the main route through the Sanctuary of Apollo, leading from the gateway uphill 200 meters…
Read More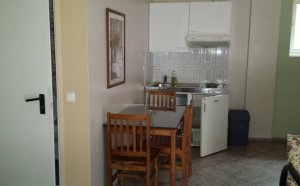 DECEMBER 06, 2023
The ancient city of Athens is one of the best preserved archaeological sites in the world. This fascinating open-air museum…
Read More