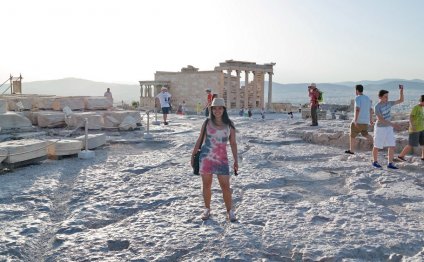 What to see in Greece?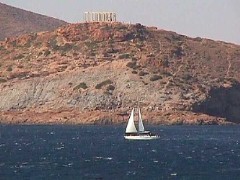 In answer to all those who have e-mailed me to ask what they should not miss while in Athens I have put together my own Top-10 list of the most important sites and things to do and see in the city.
1) The Parthenon:
Even if you don't care about archaeology or the fact that if it were not for the ancient Greeks you might be living in a far less civilized way, you can't come to Athens and not visit the Acropolis and see the Parthenon. Yes I know that there are actually Athenians who have never climbed the steps to see one of the wonders of the ancient world, the reason millions of people come to their city, the spectacular building that symbolizes some of the highest achievments of mankind. But that's no excuse. If you do nothing else on your visit to Athens, this is the one thing you should do. Since you can buy a ticket that allows you to see the other major archaeological sites that day I can free up some of my top ten space since the Theater of Herod Atticus, Theater of Dionysious and the Ancient Agora and even Keramiekos are all included among others, in the price of admission. Oh yeah and don't forget the new Acropolis Museum. See The Acropolis
2) The National Archaeological Museum:
Yes it is a 45 minute walk from Syntagma but this is one of the great museums of the world, right up there with ummmmm, well those other great ones. You won't find a better collection of ancient Greek sculpture, jewelery, pottery, and the Antikythera Device, a 2000 year old computer found in the shipwreck off the island of Antikithera will have you wondering just how advanced those ancient Greeks actually were. Athens has a lot of museums and depending on your interest you may find another that is more interesting, like if you love coins, the Nuimismatic Museum or if you like religious Icons the Byzantine Museum or if you like weapons the War Museum or if you want to see a continuous history from ancient to modern Greece go to the Benaki Museum which I actually like better. But in terms of importance you can't beat the National Archaeological Museum. But don't go on Sunday because only 8 of the 64 galleries are open and you don't even get a discounted price.
See Athens Museums
3) The Agora-Athens Central Market:
No matter how you feel about fish, meat and vegetables you won't find a more lively place than the Central market on Athinas Street. Whether you come early in the morning to watch the trucks unload because you are jet-laggedand suffer from insomnia or you visit between 7am and 1 pm with the majority of the Athenian shoppers, a walk through the market will probably change how you feel about shopping and may make you wish you had an apartment with a kitchen so you could join in. The restaurants in the meat market can't be beat for good food at a cheap price at any time of the day or night. And if that is not enough the Market is also the beginning of Athens Chinatown and Eolou Street, the pedestrian shopping district. But watch your wallet or handbag when wandering through the crowds.
See Athens Central Market
4) Mount Lycabettus:
Maybe you took one look at this green mountain rising out of the center of Athens and said to yourself "I hope there is nothing important up there because I really don't feel like climbing a mountain". There is somethingimportant up there. An amazing view. Also a great cafe, not to mention an ampitheatre where you can see such renown acts as Leonard Cohen, Peter Gabriel, James Brown and many other acts who visit Greece in the summer. In fact I would say that between Lycabettus and the Theatre of Herod Atticus below the Acropolis, there is no more impressive place to see your favorite band or musician. And you don't have to climb. There is a strange looking train that will take you almost to the top. Walking down is a lot offun and you never know which neighborhood you are going to end up in. See Mount Lycabettus. If it seems too daunting a task climbing Philopapou Hill is a good substitute and right across the road from the Acropolis.
5) The Plaka:
A walk through the oldest neighborhood in Athens is a must and one of the most plesaureable activities especially in the early evening. There are hundreds of shops from kitchy tourist to the workshops of some really great artisans. Thereare several good restaurants where you can sit outside almost year round. There are also some nice little ouzeries that are cozy when it is too cold to sit outside. The famous Brettos distillary on Kydatheneon could be in this top 10 list on its own. The out-door Cine Paris where you can watch a move on the roof of a building below the lit walls of the Acropolis could too. There are ancient Greek and Roman ruins scattered around as well as some beautiful 19th century and older buildings and several Byzantinechurches. Lets not forget Anafiotika...
new york stock exchange logo
x3ap stock exchange
global stock exchange
argo london stock exchange
toronto stock exchange canada
kenya stock exchange
when does stock exchange open
hochiminh stock exchange
toronto stock exchange quotes
stock exchange example
toronto stock exchange closed
new york stock exchange floor
sharp tokyo stock exchange
vancover stock exchange
greece stock exchange
where was the first stock exchange in the u.s.?
when does the stock exchange close
stock exchange definition economics
Source: www.athensguide.com
RELATED VIDEO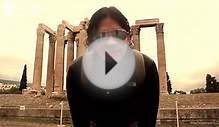 QUE VER EN ATENAS, GRECIA - WHAT TO SEE AND TO DO IN ...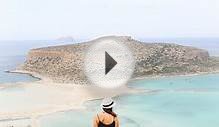 A Vancouver Style Blog by Alexandra Grant: What to See in ...
Share this Post
Related posts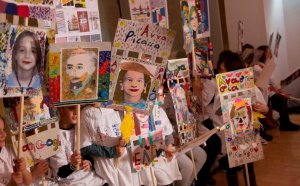 SEPTEMBER 28, 2023
Welcome back to our 'Best Kept Secrets' blog series. Last week we ran through . This week we'll give you the lowdown on what…
Read More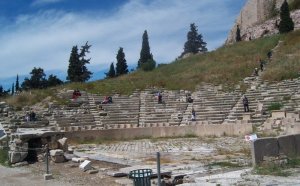 SEPTEMBER 28, 2023
Athens is known for its fantastic climate almost all year round. Rain, cold and rarely snow might make a brief appearance…
Read More