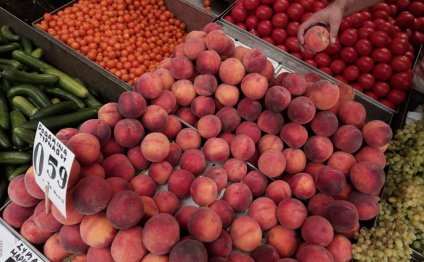 Food prices in Greece
Greece used to be one of the most affordable destinations of Europe, but after the country joined the Euro prices have soared and are now on par with all the other European destinations.
In the sixties and seventies when the currency exchange rate and prices in Greece were favorable to travelers from Western Europe and the US, Greece was a favorite destination for budget-conscious tourists.
Prices in Greece vary from place to place, but this guide should give you a good idea of what to expect if you are planning to travel to Greece.
A loaf of bread costs €0.80, and it is a Greek norm that all meals are accompanied by bread. Therefore bakeries exist in every neighborhood where bread is freshly baked each morning. If you arrive at a bakery after 11:00 AM you might not find much selection left. Traditionally bakeries sell a host of other products, ranging from freshly baked pies (cheese-pies, spinach-pies, etc.), milk products, sweets, cookies, and crackers. Budget conscious travelers take advantage of the reasonable prices of these products for their daily food.
A meal at a restaurant that includes a main course, a salad, and a soft drink would cost a traveler around €20. Prices vary between towns, and between parts of towns. Expect to pay premium prices for food at a very popular touristy location, and less in parts of towns where tourists don't usually venture. A plate of spaghetti for instance, will set you back 7 or 10 euro; a Greek salad 7 or 9 euro, a bottle of water €2.50, the obligatory "service charge" another euro, and if you add a drink or two your bill will increase accordingly.
The "service charge" I mentioned is a mysterious item on the bill. No one really knows what it is, and you might get different answers from different restaurants. Rumor has it that it is the charge for the little basket with some bread slices, some butter, napkins, and the silverware the waiter will set on the table upon sitting. Others say it reflects the tip for the waiters. In any case, it is ubiquitous in Greece so don't panic, and make sure you eat all the bread from the basket.
Tipping at restaurants in Greece is included in the price either as a separate "service charge" or as part of the food price. The menu usually indicates somewhere on the last page what's included in the prices. If in doubt, ask the waiter. It is customary to round up the bill at restaurants, cafeterias, and bars.
Bottled Water Price: 0.50€
The Greek government regulates the price some basic necessities for travelers. If you buy a small bottle of water in Greece you should pay no more than 50 cents (assuming you are not sitting at a table).
Prices of fresh fish at restaurants get the lion share of complains in Greece. The reason is that fresh fish prices in Greece change daily, and the menus at restaurants don't include them. Usually the menu would say something like "market price" next to a fresh item. This is how it works: The customer would ask to see the fresh fish, and the waiter will take the customer to the place where the catch of the day is displayed (usually in the kitchen, or somewhere near the front of the restaurant). There the customer can inquire about what kind of fish is displayed, how much it costs per kilo, and would order the quantity he/she wants to eat. The waiters are usually not forthcoming with the price information, and travelers neglect to inquire, and this has lead to many misunderstandings and complains. It's not really a scam, as many tourists believe. Greeks order like that, and either don't ask about for the price (its a status kind of sign like: "I am out to enjoy myself, I like this fish, price is not an issue"), or if they really care, they ask outright.
Always ask
for a
receipt!
For low budget dining, one can opt for a Gyros sandwich, or even a souvlaki that are sold just about everywhere for low prices. Usually gyros and souvlaki is prepared in the evening and is eaten for dinner, although in places where tourists frequent, you can find them all day long. Make sure you order the "sandwich" and not the platter. Some restaurants around Monastiraki would be more inclined to serve you the platter for double the price (and double the portion) of the sandwich if you do not specify the Gyro you want. For breakfast, one can opt to sit at a cafeteria and have a full English breakfast, or just a frappe (iced coffee). Oftentimes, a simple cheese pie, or a spinach pie from the bakery is adequate for those who don't want to pay the price for a full breakfast or those who are on the go.
Hotel Prices
Prices of hotel rooms vary from place to place and depending on the hotel class. You can expect to pay between 70 and 140 euro for a double room at a "C" class hotel (prices can vary depending on location and time of year). You can find a decent hotel (Best Western style) in the center of Athens for about 70 Euro (summer 2014).
There are many luxury hotels in Greece, most of which rely on "packaged" tourism to fill their rooms. As a result, we have noted a deterioration of services, dated facilities, and sub-par dinning in many five star hotels we visited in Greece. That's not to say that they are all sub-par, but you should read reviews carefully before you book. Also, as a rule, you can expect to pay a lot more for a room in a luxury hotel if you are not part of a group, so check to see if you can get to the same hotel by joining a group through a travel agent.
Source: greeklandscapes.com
RELATED VIDEO
Corfu 2014 food & Drink Prices Guide
Rising Food Prices Hit Greece
Share this Post
Related posts
DECEMBER 08, 2023
If Greece ditches the euro for the drachma, as is possible, prices on everything from B&Bs to baklava could plummet dramatically…
Read More
DECEMBER 08, 2023
The island of Santorini (Thíra) is most impressive when approached from the sea as you sail into the massive caldera (sea-filled…
Read More