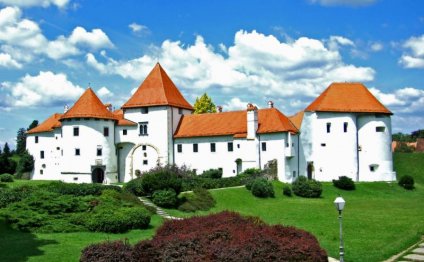 Italy and Greece Vacations
You're reading this article because, for whatever crazy reason, you've decided that at some point you'll want to leave Italy and go to Greece. I'll try to refrain from commentary about why you should just stay in Italy because it's got everything you could possibly want to see and do and eat and then some, because (much as I'd like to deny it) there are some great reasons to visit Greece, too. (Seriously, just look at the picture to the right and tell me you don't want to go to Greece…)
Normally, when you think about getting from Point A to Point B you'll come up with the same general options: planes, trains, and automobiles. But when you're dealing with getting to Greece from Italy, you're talking about two countries with copious amounts of coastline – so it's not surprising that one of the most popular ways of getting between Italy and Greece is by boat.
Where you are in Italy could be one of the biggest factors in determining the best way to get to Greece, but cost and time are also big things to think about – so let's look at your options for how to get from Italy to Greece, and then you can see which one fits your travel schedule and budget best.
Taking a Ferry from Italy to Greece
If you're on the eastern coast of Italy and you want to go to Greece, the first thing you'd probably think of is taking a ferry. From the northern part of Italy, the trips aren't going to be particularly short (heck, they're not very short even from southern Italy), but if you've got time to spare it can be a bit of forced relaxation (something I'm not very good at while on vacation) – or you can take an overnight trip and wake up in a new country.
Ports in Italy that are departure points for Greece are Bari, Brindisi, Ancona, and Venice – but your choices don't end there. There are a few different ports in Greece that you can sail to, and a few different ferry companies you can pick as well.
Here's an outline of the options (ferry company names are listed after the Greek destinations):
Ferries from Brindisi to Greece:
> to Igoumenitsa, Patras, & Corfu – Agoudimos, or Endeavor
> to Cephalonia/Kefalonia – Endeavor
Ferries from Bari to Greece:
> to Igoumenitsa & Patras – Superfast, Agoudimos, or Ventouris
> to Corfu – Ventouris, or Superfast
Ferries from Ancona to Greece:
> to Igoumenitsa & Patras – Superfast, Anek, or Minoan
Ferries from Venice to Greece:
> to Igoumenitsa, Patras, & Corfu – Anek, or Minoan
The prices for ferries are going to vary widely depending on your departure and arrival points, the duration of the trip, the kind of ticket you buy (deck only, seat only, dorm bed, or cabin), as well as the company you choose, so you'll need to think about your own travel budget (not to mention your comfort level) in order to pick the ferry that's right for you.
For instance, a ferry from Brindisi to Corfu for just a foot passenger (no vehicle), deck only, is roughly €40. On that same ferry, the price of a ticket for a seat is just under €50. From Ancona-Patras, a foot passenger with no reserved seat will cost between €50-55 (depending on the company), between €70-75 for a seat, and just under €100 for a bed in an on-board dormitory. On that same journey, for the best cabin possible, you'll pay more than €250-280 per person (depending on the company).
Some ferry companies offer an option called "Camping on Board, " especially on the longer ferry trips, which is designed for people traveling with a camper or motorhome (and only available during better weather, usually April-October). This option lets you use the ship's showers, bathrooms, and electricity for free – it just means that you're staying in your camper during the trip, rather than taking a seat on the ship upstairs.
It's also worth noting that if you've got a Eurail Pass, or even a more specific Italy-Greece Pass, the price of a ticket for a foot passenger (deck only) on overnight trips between Ancona or Bari in Italy and Patras in Greece is covered by using one day on your pass. Alternately, you can get a 30-50% discount on a basic cabin rate with your pass and not use a travel day on trips from Brindisi to Patras or Corfu.
Source: www.italylogue.com
RELATED VIDEO
Greece & Italy Anniversary Vacation of a Lifetime
Europe Lookbook-Italy and Greece
Packing for Greece and Italy
Share this Post
Related posts
DECEMBER 08, 2023
Take a trip through Europe and youll come across some of the most jaw-dropping sights in the world rolling hillsides, historic…
Read More
DECEMBER 08, 2023
Tours stop at charming Greek and Italian villages. (Photo: greece image by Miodrag Trajkovic from Fotolia.com ) Related Articles…
Read More