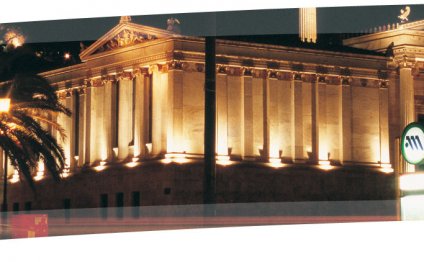 Athens Airport to downtown
For your transfer from Athens Airport to Piraeus Port you have 3 options: Taxi, Bus and Athens Metro. Keep reading below and in 2 minutes you will know which is the best option for you.
Piraeus port at night and at the back the busy city of Athens
Depending on your budget, number of travelers and travel time you can choose what suits you better.
- Bus is slow but it is cheap and runs day and night.
- Taxi is fast, relaxing and not very expensive if your are a group or family of 4 persons
- Metro takes longer than the bus plus its quite expensive and it does not run at night. (so not the best option)
Taxis are available 24/7. The pick up point is at the arrivals level between Exit 2 and Exit 3. The fare from Athens airport to Piraeus port is approximately:
Day time (05:00-24:00) 45 €
Night time (24:00-05:00) 65 €
Taxi from Piraeus Port to Athens Airport
Probably the best (value to money) transfer option for Piraeus Port. You can catch the bus from the designate area at the arrivals level (between Exit 4 and Exit 5). The bus to catch is Route X96: Piraeus - Athens Airport. There is a bus leaving for Piraeus every 30 minutes and it takes around 50 minutes to arrive to Piraeus.
Tickets are available from the bus drivers, from the ticket kiosk at the bus departure area and from all the metro stations around Athens. Tickets and cost 5.00€. Children under 6 years can travel free. Half price ticket at 2.50€ is available for student, and people of age 18- and 65+
The metro is available between 06:30 in the morning till 23:30 in the evening. It leaves from Athens airport metro station every 30 minutes.
Departure times: 06:33, 07:03, 07:33, 08:03, 08:33, 09:03, 09:33, 10:03, 10:33, 11:03, 11:33, 12:03, 12:33, 13:03, 13:33, 14:03, 14:33, 15:03, 15:33, 16:03, 16:33, 17:03, 17:33, 18:03, 18:33, 19:03, 19:33, 20:03, 20:33, 21:03, 21:33, 22:03, 22:33, 23:03, 23:33.
Transfer from Athens Airport to Piraeus Port using the Metro
When you arrive at Monastiraki station you get of to wagon and change metro line. You get to the line that ends to Piraeus (green line).The trip from Athens airport to Monastiraki takes 40 minutes. Then you will need another 30 minutes to Piraeus Port.
There are different types of tickets:
Ticket for one person (one-way): 8 Euro
Ticket for one person (with return): 14 Euro
Ticket for 2 persons (one-way only): 14 Euro
Ticket for 3 persons (one-way only): 20 Euro
Reduced ticket (students age 25-, age 6-18, age 65+): 20 Euro
Source: www.athensairporttaxi.com
RELATED VIDEO
NIGERIAN GIRLS IN SOCRATOUS STREET-DOWNTOWN
OMSI 2 The Bus Simulator - Chicago Downtown First Look HD
ATHENS AIRPORT inside...
Share this Post
Related posts
DECEMBER 08, 2023
Athens Metro connects Athens Airport with Athens City including Athens City Center (Syntagma) and Monastiraki (see map below)…
Read More
DECEMBER 08, 2023
From Athens Airport to Athens City Center Before you leave the airport area, take a little walk (unless you have a mountain…
Read More