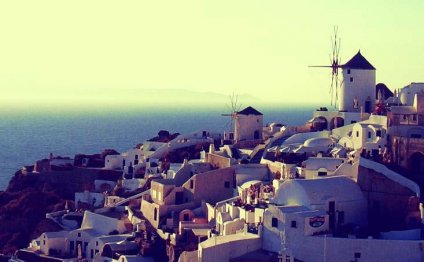 Cheap Greek Island Hopping
Article and photos by Veronica Hackethal
6/2009
Sunset view from a ferry on its way from Athens to Santorini.

The Greek Islands have inspired myth and romance through the ages, from Homer's Odyssey to "Zorba the Greek" to the movie "Mamma Mia." Riding the wine-dark sea, the wind in your hair, the sun beaming down from a limitless sky, and ancient islands dotting the horizon, you imagine yourself a Greek warrior returning triumphant from the Trojan War. Or a billionaire, sailing the high seas in a mammoth yacht. Fortunately, journeying in the land of heroism does not require an unlimited bank account. The tried and true way of traveling—taking the ferry—is an economical option with advantages over luxury routes. Ferries move slowly, allowing travelers to gaze at islands along the way and to talk with locals. As with most independent travel, there can be complications. With some thought and patience, a Greek Island odyssey won't leave you stranded on Calypso's island or caught in the whirlpools of Cherybdis. These days the worst trials may come from Lotus Eaters—backpackers sleeping on the beach in order to save more money for beer. Yet even Odysseus, while bearing Poseidon's anger, enjoyed himself along the way. Here is how to do it.

Trying to figure out the Greek ferry system can seem like medieval torture. Part of the problem lies in having so many choices. More than one-fifth of the Greek landmass consists of islands (6, 000 total, of which 227 are inhabited). No point in Greece is more than 60 miles from the sea. Fortunately, the ferry system often solves the problem for you: the schedules dictate where you go. Understanding the ferry system is easier if you realize that it is set up by locals for locals. The upside: during holidays—Greek Easter, which falls after the Roman Catholic Easter (usually in April), and the national holiday on August 15 (Feast of the Assumption of the Virgin Mary)—routes are added for homeward bound locals heading to the family lamb roast. The downside: this being Greece, do not depend on it. Some routes are canceled altogether during holidays.

Most locals are concerned with getting between Athens and the island they call home. When the ferry system was set up, someone decided on a hub and spoke system. The hub is Athens, with its main port of Piraeus (other ports include Rafina and Lavrio). The spokes are the islands. Ferries run from Athens to islands within a chain. Adding further to the complication, islands that appear geographically close can belong to different chains. Greeks sometimes refer to inter-island travel as agonia routes because of the slow, dilapidated ferries that ply these waves. Unfortunately, these routes can be the only way to travel between chains without returning to Athens. Some ferries do not run daily, leaving travelers marooned for a day or two. Remaining patient and flexible can help—life could be worse than staying on a Greek island for an extra day.

To Get to the Greek Islands, Head to the Port

The best way to figure out Greek ferries is to stop trying so hard. Micro-managing the Greek ferry system is doomed to failure, resulting only in high blood pressure and angry travel partners. Three rules are helpful to keep in mind.
Rule One: ferry tickets bought online create more hastle. No definitive source for Greek ferry routes and schedules exists, neither online nor in print. The Internet lists proposed schedules (most likely to change). Here's why: Greek ferry companies submit their schedules to the government for approval two weeks before departure. So any schedules seen in December for a June trip are likely wrong.
Rule Two: buying ferry tickets online and booking hotel rooms based on the promised schedule risks wasting money on a hotel room that cannot be used.
Rule Three: taking a ferry back to the mainland the same day as your flight is a good way to miss your plane. Planning to stay a few days in Athens at the end of the trip can help avoid this nightmare scenario.
Bottom line: it is advisable to wait until your arrival in Greece to buy ferry tickets. The two best ways to do so are through a travel agent in the port of departure, and at the port itself. Using a travel agent cuts down on footwork: just walk in, sit down in the nice air-conditioned office, and let them take care of it. The downside: Greek travel agents sell tickets for only a few ferry companies, so they won't tell you about routes available from other companies. They also won't tell you about the cheapest tickets. Instead of a slower, cheaper ferry, you could end up packed into a hydrofoil at twice the cost and no view of passing scenery. Since the commission for ferry tickets alone is not very high, travel agents may flat out refuse to book ferry tickets without also booking hotel reservations.
Source: www.transitionsabroad.com
RELATED VIDEO
HIGH SPEED FERRY TRAIL, BACKPACKING, ISLAND HOPPING ...
The Woldingham class of 1979 go island hopping in Greece Pt2
ARRIVING AT SANTORINI, GREECE, ISLAND HOPPING JUNE 2011 HD ...
Share this Post
Related posts
DECEMBER 06, 2023
After an early breakfast you will be collected from your hotel for your tour of Athens. See the sights from the comfort on…
Read More
DECEMBER 06, 2023
Some people spend their whole lives exploring the Greek Islands. Dramatic rocky landscapes, white sand beaches, even whiter…
Read More