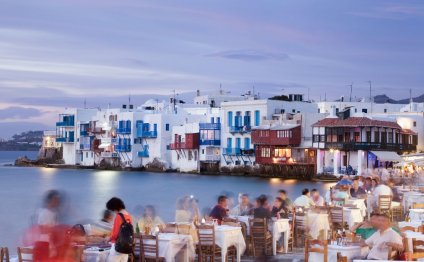 Traveling to Greece
As Sue Scanlon prepares to visit northern Greece this summer, she is keeping a close eye on the crippling financial crisis that has enveloped the historic Mediterranean nation.
"We have completely rethought our spending options, " said Scanlon, who lives in Worcester, Massachusetts, and works for student travel company Teach by Travel. "We will take it day-to-day and adjust our plans accordingly."
For honeymooners, vacationers and business travelers alike, Greece's problems have added an unexpected kink that requires some additional thought and planning.
Not many are canceling or altering their plans now, said Gabe Saglie, senior editor of travel deal site Travelzoo.com, but there are some precautions to take.
Insurance
Normally when there is reason to believe a trip might be interrupted, experts would suggest travel insurance. But these policies mainly deal with routine snafus like lost luggage rather than a nation's economic woes.
"Probably the only trip insurance that would cover you is 'cancel for any reason, ' which pays back a percentage, " said Christopher Elliott, author of the book "How to be the World's Smartest Traveler."
These policies average around $500 and reimburse you for 50 percent of nonrefundable expenses.
AIG, for instance, offers insurance that would cover a couple's trip next month from New York to Greece. The price, which ranges from $362 to $756, includes coverage for a trip operator going defunct.
British insurer John Lewis Travel Insurance said it would double its coverage on traveler's cash in Greece this month at its Plus and Premier level of services.
Elliott says he does not feel people need to cancel a trip to Greece or even avoid taking one. "The bottom line on Greece is people are still going, " he said.
Manage Your Cash
To avoid an immediate cash flow crunch, Frommers.com Editor Jason Cochran suggests avoiding banks in Greece, which have rationed money and drastically reduced their hours. That means carrying enough euros with you and relying on credit cards.
Not all places will accept American Express, he added, so use Visa and MasterCard instead. Also assume you will not be able to use your ATM card while you are there.
Travelzoo's Saglie suggests carrying prepaid cards, and once there, using hotel safes and deposit boxes to stash valuables you do not want to carry with you.
"Be discreet with your cash and refrain from drawing unwanted attention to the cash you're carrying, " he said.
Scanlon, for one, is a little worried about safety issues. She, her husband George Sotiropoulos and three kids will probably carry a limited amount of cash and no wallets, purses or backpacks. With their hotel already paid for, she said, feeding the family and putting gas in their rental car would be their main expenses.
But Cochran says there is no need for extreme caution. "Travelers who want to go to Greece don't have to worry about violence, " he said. "Greece has been going through tough economic times for a few years, and tourists have never been hurt. The Greeks will be grateful that you came."
Plan Ahead
For those with a longer planning window, the outlook is mixed on whether Greece will be a travel bargain anytime soon, Saglie said. But both he and Cochran noted that Greece's problems had pushed up the dollar's value, benefiting all U.S. travelers visiting Europe.
"If Greece does, in fact, exit the euro and resurrect the drachma, that currency would also likely be devalued, making Greece an even bigger travel bargain, " Saglie said.
For those who still do not feel quite comfortable enough to travel into the midst of an economic crisis, there are alternatives, like the Mediterranean coast of Turkey or a cruise.
Source: time.com
RELATED VIDEO
YWP Chats #2--Friendships, Traveling to Greece, and of ...
Travelling To Greece \(☆_☆)/
traveling to greece! + vlog // jana
Share this Post
Related posts
SEPTEMBER 28, 2023
In the wake of Greece s rejection of Europe s latest bailout offer, many travelers are asking if the beautiful Mediterranean…
Read More
SEPTEMBER 28, 2023
Update July 1st 2015: Due to the current banking crisis in Greece prior to this coming Sunday, July 5ths referendum, please…
Read More