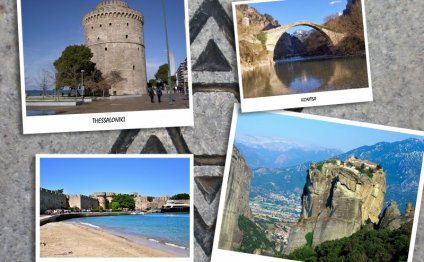 Tours around Greece
Are you new to the greek mainland, especially the less travelled northern and central areas, and wondering how best to get around? Here is some general information – have a read and then please do come and ask for specific advice which is available from all levels of expertise and in spades! BUT please do a bit of homework first so you can be helped to make the right decisions for YOUR trip.
First - get a good overall guide book and, as with choosing an island, select the places that for you are absolute MUST SEEs (for example Meteora, Vikos Gorge, Zagori Villages, Prespa Lakes & Edessa). Of course these are countryside locations and rural idylls, not ancient and historic ruins to which you can get all manner of arranged tours.
Second - get a road map of Greece. Michelin National 737 is ideal for initial planning. Now look at the places you must see and look at the distances between them and the roads and rail lines. Do they link up? Remember that, apart from the part-completed east-west Egnatia Highway, Greece does not have a wide network of motorways/highways/freeways.
Be aware that Greece does not have an infrastucture of public transport or bus services aimed at travellers (eg like the OzExperience and Wayward Bus in Australia). There are few frequent express bus services and trains do not serve western mainland of central and northern Greece. You will only get to many places (typically the ones you selected as must-sees!) by car. Or if money is no object possibly private taxi. Areas like Zagori are "2 buses per week on alternate Tuesdays, leaving at 7am, returning at 4pm" sort of connections, apart from the main villages which may have a couple of buses pass nearby each day. Timings are usually suited to the local populations' needs for school and shopping.
If you decide to drive, taking advantage of the flexibility this offers, it takes time to negotiate twisty roads and mountainous terrain - and you are on holiday, not a rally! Be realistic about distances on unfamiliar routes. On the whole roads are quiet, well-surfaced and most signs are dual language. Bigger scale Road Edition* maps (scale 1:250.00) are ideal touring maps once you have chosen your routes. Zagori area is well mapped as it is a popular walking area and the Anavasi Topo50 3.1 Epirus Zagori is a good scale (1:50.000) for exploring around the villages either on foot or by car.
(*NB Road Edition maps are no longer produced as the company was taken over in 2010 by Orama, who will now publish the maps. However you may find old stock of Road Edition maps in shops in Greece - check for more up to date versions on the Orama website )
Start planning in good time - it will take time to order and obtain a good "paper" road map. You can check out routes using a driving website like which shows you visually the fastest route, AND the recommended route (often not the same), with number of Km, and estimated driving time.
Both sites let you print out the instructions
If you are taking or renting a GPS it is still a good plan to have a paper map to check where the SatNav is taking you. There are many roads which may be well used by locals, but are not sealed surfaces & you can easily end up on a dirt road to nowhere if you don't keep an eye on where you are going. If you have a problem on an unsurfaced road (burst tyre, bottoming the car etc) you will not be covered by insurance & rescue could be very expensive.
self made self paid
self made mann co key
j stalin self made millionaire
frederick douglass self made man
cake made with self rising flour
marc quinn's self, a self-portrait made from frozen blood, is created in ________ scale.
self made hats
self made hat
self made sweatshirt
self made myth
self made training facility chino hills
self made real estate billionaires
self made jean jacket
self made company
self made in spanish
self made soundtrack
self made millionaires stories
self made pendant
inherited wealth vs self made
self made vol 3
self made in cursive
dumplings made with self rising flour
self made billionaire list
selfmade object
self-made netflix
cakes made with self rising flour
self made jacket
synonym for self made
a self made man
forbes america's richest self made woman
text-to-self connections are made when the reader connects something in the text to __________.
self made tapes
miguel aguilar self made net worth
self made skincare
lettering self made tattoo fonts
self made t shirts
selfmade object
self made tattoo on arm
cookies made with self rising flour
self made stickers
what is a self made millionaire
kylie jenner not self made
21 success secrets of self-made millionaires
hand self made tattoo
self made training
self made in chinese
self made man statue tattoo
self made chino hills
self made halloween costumes
self made saints row
the authentic self is the soul made visible
john jacob astor, who seemed to exemplify the "self-made man":
self made tattoos
self made man quote
mmg self made 4
Source: www.tripadvisor.com
RELATED VIDEO
Serbia - Greece 2013 - 4500km All around bike tour ( part 1 )
Greece,Athens 2009,Tour Around Plaka and Monastiraki, Part1
Serbia - Greece - 4500km all around bike tour 2013
Share this Post
Related posts
DECEMBER 06, 2023
Venice, Italy You could start a discussion about Venice by praising its restaurants, wine bars, marble churches or blown…
Read More
DECEMBER 06, 2023
Greece is a country located in southern Europe, on the eastern edge of the Mediterranean Sea. Description : Map showing location…
Read More