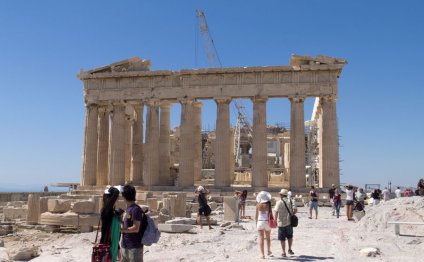 Monuments in Athens
Essays & Other Resources


This site was created for educational purposes by Kevin T. Glowacki. All content on this website (including text and photographs), unless otherwise noted, is licensed under a Creative Commons License.





The Topography & Monuments of Athens: A Brief Introduction

What is "topography"?

When archaeologists use the term "topography" in their work, they usually mean a combination of several different subjects, including

the geography & natural resources of a country
the architectural form of a city as it develops over several centuries or even millenia
the study of different functional areas within a city or its countryside, such as sanctuaries, civic centers, marketplaces, workshops, private houses, & cemeteries.

A student of "topography" must be prepared to delve into subjects such as architecture, art, literature, history, epigraphy, numismatics, religion, politics, physical anthropology, and geology, as well as having an understanding of the methodologies of archaeological excavation and regional survey. Hence, "topography" can be a truly interdisplinary adventure, full of all the things that make archaeology and history such fascinating fields to study.


Why study the topography and monuments of Athens?

Just as there are many different ways of looking at artifacts, there are many different ways to study archaeological sites. For example, archaeologists may focus upon

regional analysis and how a site fits into larger social, political, and economic systems

individual settlements, shrines, or cemeteries and the human communities who used them

specific types of buildings, such as houses or temples, and their function within the community

specific features (e.g., wells, hearths, graves) and artifacts (e.g., tools, jewelry, pottery, art)

issues of typology, technology, chronology, ideology, social stratification, trade, artistic achievement
and much more.

In studying the topography and monuments of Athens, we are looking at the development of an ancient city-state that played a very important...
See also:
Source: www.stoa.org
RELATED VIDEO
Monument To Internet Hookups during Athens Pride
zeus monument...athens
Ancient monuments in Athens - (3D)
Share this Post
Related posts
DECEMBER 06, 2023
Welcoming almost 19 million tourists each year, Greece is a haven for travellers seeking everything from history and culture…
Read More
DECEMBER 06, 2023
Birthplace of philosophy, democracy and drama, the city of Athens is not only an open-air museum of world-class cultural…
Read More