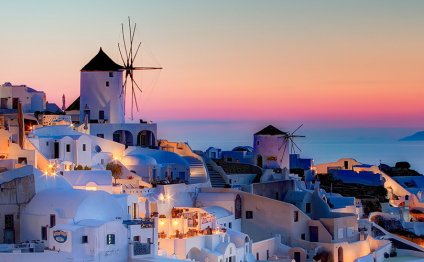 Greece Island Hopping Tours
I'm a yes girl. I've always prided myself on that. Travel has been a natural extension to that facet of my personality – I love how it continually pushes me out of my comfort zone and forces or invites me to try things I'm not sure how I feel about. In some cases, I'm lucky enough that something I assumed I'd loathe – camping or cruising, for example – turns out to be unexpectedly entertaining.
This is what I told myself as I stared at the ceiling in a dark hotel room in Athens, Greece, wracked with nervous insomnia, tossing and turning the night before checking in for my first ever group travel experience – a Contiki Greek Island Hopper. I'd just wrapped up my first week in Greece in what is more or less my usual style – independently, slowly, and either solo or with a temporary travel buddy. It was sublime. And I was about to switch gears entirely.
Twelve days. Four stops. Eighty people. One group.
My yes girl ways had gotten me this far – when Contiki invited me to join one of their trips anywhere in the world, I certainly wasn't going to start no girling then! — but in the weeks leading up to the tour I started to doubt my decision. I confided in close friends that I thought I'd made a mistake – how was I, an independent traveler with a control freak streak and a penchant for eye rolling, going to enjoy two weeks under the thumb of a tour group? I started to descend into panic – what was I even going to write about?
Thirteen days later, I was back in that same Athens hotel, staring at the ceiling once again. But this time, I was smiling.
Guys. I can't even explain the warm fuzzies I have when I think about this trip.
You're going to hear all about the mouth-gapingly gorgeous beaches, the world-famous beach parties, the whitewashed cities and the dreamy sunsets. Yet when my mind wanders to this trip, something else comes up first, and it was the aspect that had actually stressed me out the most, pre-departure: the group itself. I was terrified there would be no one there I'd connect to or click with, and I'd spent the bulk of the trip muttering sarcastic jokes to myself while everyone else jovially toasted their new found friends over ouzo.
Turns out, my fellow Contikiers were amazing. The vast majority were Australian, though there were Americans, Canadians, Brits and other passport holders strewn about as well. I was impressed with what a wide range of backgrounds and careers the group came from, from medical field graduate students to tech geniuses to high school teachers.
But what I came away with most of all? What an overall smart, funny, and genuinely sweet and lovely group of humans they all were. Months later, I'm still in touch with a fair amount of them – the close group of girls I bonded with has a Facebook thread where we update each other on our lives, while a larger group of the full crew we partied with keeps me regularly giggling. Upon parting, many of us made plans to visit and/or travel with each other again – and I genuinely plan to do so.
When I was describing the trip to a somewhat skeptical long term expat friend of mine, I kept coming back to one description: refreshing enthusiasm. To my knowledge, I was the most well traveled person among the 80ish people on my tour. But rather than feeling frustrated by that, I felt refreshed by it. Many in the group were in the discovery phase of their great love affair with travel, and I loved the keen conversations that took place every day about big dream trips, travel bucket lists, and where we were all headed next.
There was no one-upmanship, no jaded pretension, no cheaplympics — just a bunch of people cheering each other on in their plans to see the world in whatever way they got excited about.
Why Contiki?
Why do people chose group travel? I expected that for most, it was because they were uncomfortable with the idea of traveling independently, or at the very least more comfortable with the idea of traveling on a tour. And that was true. But there were answers that surprised me — some were backpacking Europe independently all summer and simply wanted a vacation from their travels. Some typically traveled solo and wanted a built-in party crew for the Greek isles. Some were couples looking for a stress-free getaway — and even one set of honeymooners. And there was at least one pesky travel blogger constantly asking all kinds of "what motivates you to travel?" style questions.
While I don't have much to compare it to, there were a few things that I gave Contiki kudos for:
• A Niche Audience. Contiki is known for being fairly nightlife oriented and specifically targets the 18-35 crowd (the group I bonded with was mostly 23-30). For the most part everyone knew exactly what they were getting into, and there was an upbeat and youthful vibe. Even those that didn't party like rockstars were laughing over the recounted antics at group breakfast the mornings after.
• Great hotels. Our Athens digs had a gorgeous rooftop overlooking the ocean, our Mykonos hotel was Mediterranean chic, the Santorini base was seconds from downtown Fira, and our Ios accommodation was so amazing I plan to return for a minimum of a week someday in the future.
Source: www.alexinwanderland.com
RELATED VIDEO
Contiki Greek Island Hopping August 2014 - Pt.II
Island of Ios in Greece Watersports (Ch 10)
Greek Island Hopping Contiki Vlog // Athens & Mykonos
Share this Post
Related posts
SEPTEMBER 29, 2023
Some people spend their whole lives exploring the Greek Islands. Dramatic rocky landscapes, white sand beaches, even whiter…
Read More
SEPTEMBER 29, 2023
** Overview Style Freedom to explore at your own pace; unescorted Departures Scheduled Dates Price Includes Round trip flights…
Read More