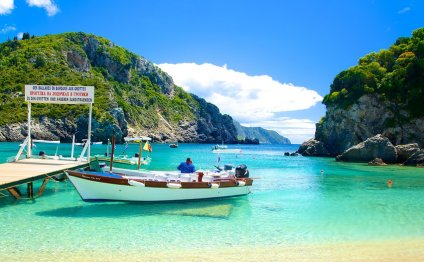 Cheap flights and hotels to Greece
Greece is a top destination for tourists, especially those who are interested in everything Greek: history, architecture, culture, food, and more.
Flights to Greece
The Eleftherios Venizelos International Airport (ATH), located 19 miles northeast of Athens, is the country's major international airport. Other international airports that serve flights to Greece include the Nikos Kazaantzakis International Airport (HE) in Heraklion, Diagoras (RHO) in Rhodes, Makedonia International Airport (SKG) in Thessaloniki, and Ioannis Kapostrias (CFU) in Corfu. ATH is the main hub as well as the largest and busiest airport for flights to Greece. There are designated taxi's waiting areas at exit 3, a railway station adjacent to the airport terminal, and four bus lines in between exit 4 and exit 5. To date, it handles around 14-15 million passengers a year. Most domestic and international Greece Flights are handled in this airport as well. There are also charter flights coming from different European cities during the peak tourism seasons.
Greece Weather
The best time to book fights to Greece is during the spring and autumn seasons, specifically between May to June and September to October. The tourist infrastructures and destinations are usually closed during the winter season. Even the hotels and restaurants stop entertaining guests. In the middle of June, the Greek islands are flocked with tourists who love to party under the hot sunny weather. The beaches are usually crowded up to August, but remember to bring sunblock. Starting from September up to October, tourism starts to wane as the blue skies begin to disappear and give way to the wet and cold season.
Getting Around Greece
The Attiki Otos motorway network and the Athens Metro serve visitors who take Greece flights bound to Athens. The Athens Metro is one of Europe's finest rapid transit systems—it provides easy and comfortable transportation to many historical sites in Greece. To get from one specific destination to another, tourists can take taxi cabs instead. Athens and the suburbs also have buses that travel from 5:00am to 12:00 midnight. You can get bus tickets from kiosks called Periptero. For tourists who take Greece flights to visit Crete, the best way to get around is by bike or car. In Thessaloniki and other destinations, the best transport is the bus.
Greece Attractions
Tourists who book flights to Greece visit the country for its rich historical sites, architectural marvels, splendid museums, and exotic beaches.
Delphi Ruins: spiritual site in the ancient world famous for its oracle
Acropolis: it continues to amaze the world for its magnificent structures standing up since ancient times
Beaches in Crete: the best destination for party goers and beach enthusiasts during the summer season
Mount Olympus: feel like a Greek god hiking up this mythical palace of the deities
Source: www.orbitz.com
RELATED VIDEO
Cheap Flights
cheap flights to Greece
Cheap Flights and Hotels
Share this Post
Related posts
DECEMBER 08, 2023
Flight & Hotel Flight Only Hotel Only Find Your Nearest Cassidy Travel Shop Prefer to book your holiday in person?…
Read More
DECEMBER 08, 2023
The Greek islands are the top holiday spot here and with such beauty, beaches and great value deals all on offer we can t…
Read More