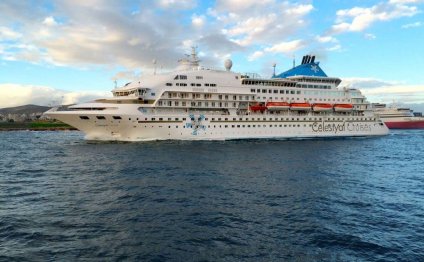 7 day Greek Islands Cruise
Venice, Italy You could start a discussion about Venice by praising its restaurants, wine bars, marble churches or blown glass. But you probably won't. You'll likely start with the fact that Venice is built on water. It is a place where people either float slowly down palace-lined man-made waterways or stroll down narrow alleyways. There's no more extraordinary place to find yourself, or lose yourself. Be sure to stay in Venice before your next European cruise. More Details
Day 2 At Sea - - Day 3 7:00 am 3:00 pm
Corfu, Greece One of the lushest of the Greek Isles, Corfu is rimmed in dramatic blue waters and topped with tranquil hillside villages. A collection of quaint cafes in the town of Corfu feels very continental, but the island's secluded coves and sandy beaches could only be found in the Greek Isles. Explore more of Corfu on a European cruise! More Details
Day 4 2:00 pm 10:00 pm
Santorini, Greece Whitewashed villages clinging to the sides of the sea cliffs have made the volcanic island of Santorini one of the most widely photographed places in the world. The island's charm and subtle mystery have even made it a target of speculation as the location of the lost city of Atlantis.
More Details
Day 5 8:00 am 4:00 pm
Mykonos, Greece Mykonos is a classic Greek Island with whitewashed houses, blue-domed churches and windmills.
Add a reputation for beautiful beaches and you'll understand why Mykonos is the most popular island in the Cyclades. Explore the island in a 4 x 4 or take a ferry to the tiny island of Delos. Explore more of Mykonos on a European cruise! Mykonos is a classic Greek Island with whitewashed houses, blue-domed churches and windmills. Add a reputation for beautiful beaches and you'll understand why Mykonos is the most popular island in the Cyclades. Explore the island in a 4 x 4 or take a ferry to the tiny island of Delos. Explore more of Mykonos on a European cruise! More Details
Day 6 9:00 am 6:00 pm
Olympia (Katakolon), Greece This quaint little seaside town on the Ionian Sea is the gateway to Ancient Olympia, where Greek mythology was born and the first Olympiad was held. You may still be able to hear the distant echoes of the ancient Greeks cheering as you tour the ruins of one of the most important and exciting sanctuaries of antiquity. Explore more of Katakolon on a European cruise! This quaint little seaside town on the Ionian Sea is the gateway to Ancient Olympia, where Greek mythology was born and the first Olympiad was held. You may still be able to hear the distant echoes of the ancient Greeks cheering as you tour the ruins of one of the most important and exciting sanctuaries of antiquity. Explore more of Katakolon on a European cruise! More Details
Day 7 At Sea - - Day 8 (DISEMBARK) 8:00 am -
Source: www.ncl.com
RELATED VIDEO
GREEK ISLAND CRUISE 2011 LOUIS MAJESTY CRUISE SHIP PART 37
8 days Sailing Cruise: Turkish and Greek islands
Greek Island Cruise
Share this Post
Related posts
DECEMBER 06, 2023
As a cruise region, the Eastern Mediterranean encompasses a broad range of territories that include the Adriatic coast of…
Read More
DECEMBER 06, 2023
Author: Moses Thrasher Date of Trip: September 2012 Tuesday/Wednesday Sept. 4 & 5 – It was the trip of a lifetime; my…
Read More