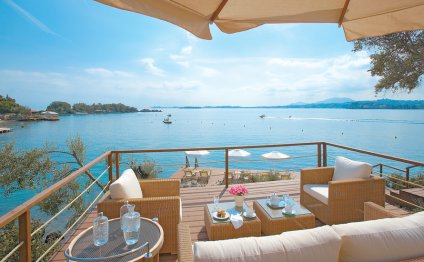 Best islands in Greece for honeymoon
The birthplace of civilization not only offers unparalleled tours of historical sites and architecture – it also has some of the most beautiful coastlines in the world. In fact, Santorini was just named one of 2015's 10 best islands in the world by TripAdvisor!
Honeymoon Activities
Relax on the luxurious beaches of Mykonos
Explore the Parthenon, Acropolis and more in Athens
Cruise the brilliant waters of Santorini
Besides offering some of the most gorgeous beaches in the world, Mykonos also provides visitors with a vibrant and exciting nightlife. There's a reason Mykonos has become a favorite amongst the jet set over the past half-century! Sunbathers will want to hit the beaches at Platis Gialos and Ornos. No trip to Mykonos is complete without an excursion to the island of Delos, one of the most important mythological, historical and archaeological sites in Greece.
The Greek capital is a unique fusion of ancient and modern atmospheres, making it the perfect destination for aficionados of art history and architecture. Thanks to the 2004 Olympic games, the city of Athens enjoyed quite a bit of refurbishment, adding a slew of new shopping and dining options. In addition to seeing all of the sights along the grand pedestrian promenade, you can take a cable car up to Mount Lycabettus or enjoy sunset at Mount Hymettus.
There are few places in the world more beautiful than Santorini, with its brilliant white cliffside villages and cerulean waters. Locals believe the island is the site of the lost city of Atlantis, and it's easy to see why – it's nothing short of paradise. Shopping, clubbing and bar-hopping are popular activities, but you can also escape the buzz by visiting the beaches on Santorini's satellite islands or the volcano at Nea Kameni island. There's no better way to enjoy the sun and sea than to sail quietly on a catamaran or sailboat.
Top-Rated Hotels Nearby
This post contains affiliate links. If you decide to make a purchase, Artfully Wed will receive a small commission for introducing you to a great brand or product. This doesn't cost you anything extra, but it helps to support Artfully Wed and allows us to keep providing you with the best inspiration for style-conscious brides. Thanks for reading!
Boheme Mykonos is a beautiful new boutique hotel with 20 suites, each with a balcony overlooking the Aegean Sea. It's an easy walk to the windmills of Mykonos, as well as a fashionable assortment of boutique shops, bars and lounges. If relaxation is your goal, this is the place to do it. Check rates for Boheme Mykonos on Travelocity »
With breathtaking views of the Acropolis, the St. George Lycabettus is a boutique hotel in the heart of Athens. Also just a short walk away are the Byzantine Museum and the Goulandris Museum of Cycladic Art. The St. George boasts a full-service spa and a rooftop pool and bar overlooking the city. Check rates for St. George Lycabettus Hotel on Travelocity »
The Apanema Resort is centrally located in Mykonos, just minutes from the Archaeological Museum of Mykonos and the Church of Panagia Paraportiani. A small hotel with only 17 rooms, it's tucked away from the hustle and bustle of the island, offering newlyweds an intimate and romantic atmosphere with stunning panoramic views of the Aegean Sea. Check rates for Apanema Resort on Travelocity »
If incredible views of sunsets over the Aegean Sea, three infinity swimming pools, and one-of-a-kind guest rooms sculpted from the cliffsides in Santorini sounds like your dream honeymoon, the Katikies Hotel is the place for you! This award-winning hotel has gorgeous honeymoon suites and onsite wedding planning services, too. Check rates for Katikies Hotel on Travelocity »
The Margi is a 5-star Riviera boutique hotel near Voula Beach and Esperidon Square on the Vouliagmeni Peninsula. Its gorgeous outdoor pool is illuminated by candles with Moroccan music playing in the background. Each room has a private furnished balcony, and the hotel has a large event space if you're planning a destination wedding. Boasting access to a yacht marina and an array of water sports, The Margi allows guests to beat the heat of the city and enjoy the coast and the most popular clubs and restaurants of Athens. Check rates for The Margi on Travelocity »
Source: www.artfullywed.com
RELATED VIDEO
Amazing Islands For Honeymoon
.Greece.Hersonissos.Crete island
Share this Post
Related posts
DECEMBER 06, 2023
If Greece ditches the euro for the drachma, as is possible, prices on everything from B&Bs to baklava could plummet dramatically…
Read More
DECEMBER 06, 2023
Organize your vacation in Greece and the Greek islands Greece and the Greek Islands are among the most favourite tourist…
Read More