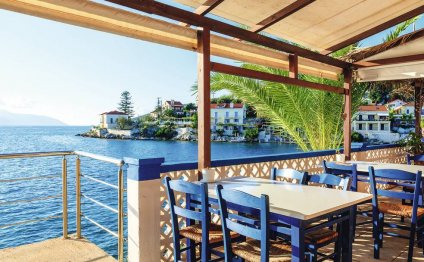 All-Inclusive Vacations to Greece
Greece's tourism minister said that Athens had no plans to curb all-inclusive resorts on its islands, after suggestions new Prime Minister Alexis Tsipras had declared war on the popular packages.
"We don't agree with establishing an 'all-inclusive' resort model, which to a great degree cuts off tourism from local economies, " Tsipras said in early December.
The tourism minister says that even though the Greek Prime Minister is attacking all-inclusive resorts as it identifies problems with the country's economy, it has no plans to make crackdown on these properties 'its mission'.
"There won't be any action against all-inclusive holidays, " Elena Kountoura, from the right-wing Independent Greeks party in Tsipras's coalition, told reporters.
When a President declares they have "full confidence" in a member of their cabinet, that cabinet member's days are numbered. They will be 'stepping down to spend more time with their family' sooner than later.
When a new Greek activist government — under pressure to look like it's doing something — declares that they believe all-inclusive resorts are bad because tourists stay on property instead of benefiting the local town economies nearby but promise they're only talking theoretically and you should trust them that they aren't going to do anything about it… you should trust them as much as you do that they'll repay all of their bonds in full.
Everything is turned upside down in Greece when it's said of the new left wing government,
"Syriza's strategy is also in favour of low tax rates to encourage investment."
The government won't privatize airports and ports, which could have improved conditions (brought in greater investment and improvements) in tourism.
Instead their solution?
[E]xtending the tourist season and examining whether Greece should set up a state ferry line or re-establish its national airline.
The Greek tourist season isn't what it is because the government has declared dates. It's a function of the weather. As for re-establishing a state-owned airline (that would compete with Greek carrier and Star Alliance member Aegean), that's never worked out well before… Former state airline Olympic is now a part of Aegean, with the surviving carrier having bailed out Olympic in a deal that had been opposed by the European Union.
Leaving aside even monetary issues, the likely exit of Greece from the Euro, and what it would mean for repatriating funds out of Greece (or for that matter even basic financial functioning, like providing for payroll from accounts outside of Greece), foreign investment in tourism isn't likely to be encouraged by statements like,
"We don't want to continue the current model of intensive tourism exploitation, which is already presenting signs of financial fatigue, " Tsipras said last month.
Tourism represents about a fifth of GDP. All-inclusive package tours are a key segment of the European market, especially for tourists coming from the UK and Germany.
Since tourism is important to the economy, and the economy is doing badly, it must be tourism's fault..
Source: viewfromthewing.boardingarea.com
RELATED VIDEO
Tips For Booking All-Inclusive Vacations
Egypt All-Inclusive Vacations | Come Find Your Vacation Here
Live Aqua Cancun - All-Inclusive Vacation Team
Share this Post
Related posts
DECEMBER 06, 2023
Take a trip through Europe and youll come across some of the most jaw-dropping sights in the world rolling hillsides, historic…
Read More
DECEMBER 06, 2023
Flight & Hotel Flight Only Hotel Only Find Your Nearest Cassidy Travel Shop Prefer to book your holiday in person?…
Read More