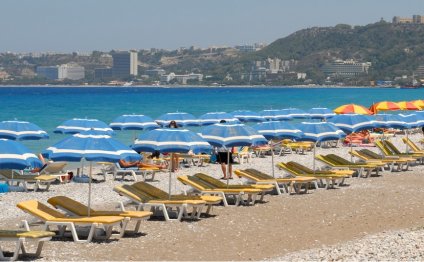 What are the best Greek Islands?
As the summer season in Greece is slowly approaching, tourists are planning their vacations and vet Greece's tens of islands so as to find the most suitable for their taste. At least, that's the case for tourists who are familiar with Greek islands and the different landscapes they can offer.
If, however, it's the first time you're planning to visit either the islands of the Aegean or the Ionian Sea, you can get a taste of the top seven Greek islands you should consider exploring below.
1. Rhodes: Located within eyesight of the Turkish coast and once home to one of the seven wonders of the world, Rhodes has everything a visitor could want, ranging from dazzling ancient and medieval ruins to great food and spectacular beaches.
2. Naxos: As the largest and most mountainous of the Cycladic island complex, Naxos is a spot of white in the turquoise waters of the Aegean, and home to Greek mythological god Zeus. The island is a unique blend of ancient ruins and beach culture.
3. Mykonos: The mention of Mykonos brings to mind bright white buildings, and golden beaches covered with tanned bodies. Over the years, Mykonos has gone from sleepy fishing villages, to jetset and hipster haven, and is now settling into more mainstream tourism, while becoming Greece's most popular island.
4. Skiathos: Located in northern Greece, the tiny island of Skiathos is packed — unlike the Cyclades — with pine forests that reach the sea and surround its archeological ruins. Skiathos's deep blue coves are home to some of Europe's best beaches.
5. Corfu: The northern Ionian island of Corfu is a Greek island like no other and is characterized by a mixture of influences ranging from the Venetians to the French, and the British. With lush vegetation and beaches with freezing cold waters, the range of holidays one can enjoy on Corfu is vast.
6. Zakynthos: One of the biggest islands in the Ionian Sea, Zakynthos is as fruitful as it is beautiful, boasting a bounty of crops like olives and grapes. Music is a huge part of the local culture; you'll be captivated by the sounds of Zakynthian performers.
7. Crete: Finally, there is Crete. The southernmost largest island of Greece has a distinct local culture and will satisfy whatever it is you are looking for. Whether it be for its rugged mountains or its countless beaches, its ancient remains or its ultramodern hotels, its layered history or its intense people, Crete is a world unto itself.
Source: greece.greekreporter.com
RELATED VIDEO
What is the Most Popular Greek Island?
Greek Islands..
Share this Post
Related posts
DECEMBER 08, 2023
Considered one of the sunniest destinations in all of Europe, Samos is where you will discover stunning pebble beaches and…
Read More
DECEMBER 08, 2023
At Mólyvos, at the northwest tip of Lésvos, one of the longest-established restaurateurs – Melinda McRostie – took the lead…
Read More