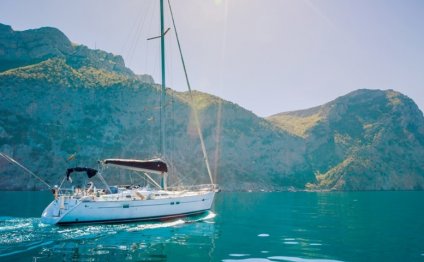 Best way to See the Greek islands
By John Roberts
A highlight of my 2015 travel itinerary was my planned trip to sail in the Greek islands.
I placed this on my calendar after receiving an invite from the owners of a new travel startup whom I met at a travel conference this year. Mar-A-Mar Travel specializes in fitness-oriented sailings in the Cyclades in Greece. This group of islands in the Aegean Sea always seemed so fascinating to me, and the idea of getting to island hop and play in the waters and on land fit perfectly with how I like to travel.
Little did I know just how much fun I would have (check the video at bottom of post showing all the activities and a tour of the boat). I was a bit unsure about how I would react to being on such a small vessel for an extended period of time, in the open waters that can get choppy. Would I get seasick? That was a definite concern. I was going to be out of my comfort zone a bit on this one.
Let me tell you: Strangers become fast friends when you squeeze together in a 50-foot sailing yacht.
You have no choice but to get to know one another when you share such tight quarters on the high seas.
And when your voyage takes you through the incredible Greek islands on a summer cruise, these friends can become like a family. This happened for me on my trip with Mar-A-Mar Travel. The nine days spent playing and exploring rank among my best travel experiences to date.
Laughter and story-telling over shared meals. Attacking new adventures each day in a new place to explore – like swimming in a bay or hiking into cave-filled hills. We even spent an afternoon frolicking with dolphins.
I had never been on a sailing yacht, but I think I quickly took to the lifestyle that requires little beyond a swimsuit, sunscreen, a good hat and an adventurous spirit.
Of course, DO NOT forget your camera!
Also, I did not get seasick. We had mostly calm seas, and the day it was a little bit rough, I was able to hold on tight and keep my stomach in check.
Our yacht for the voyage. It sleeps six to eight people in cozy quarters down below deck.
I met up with Mar-A-Mar Travel co-owner Sherman Pencescu in Mykonos to join the boat. It would be seven of us for about a week before co-owner Sandra Schmitt would come onboard with another guest. I overlapped two sailings during my time with Mar-A-Mar.
In Mykonos, I met skipper Fiori Dobi, a young, gregarious and expert sailor, who despite being in his mid-20s, has been sailing the Greek isles for the better part of a decade. Dobi knows nearly every square mile of the region and hunted out special spots for us to explore - secluded bays to swim in, caves, hot springs, hills and hikes. He set the itinerary for the voyage.
Winds and weather often dictate when and where you can sail in the Greek islands, so you have to be flexible and expect that any outlined itinerary or schedule is merely a suggestion. Things can easily change, but this won't affect your fun. Mar-A-Mar works with its passengers to find out what they like to do and where they might want to explore. I'll sum up how my time in the Greek isles sailing for more than a week went. Just imagine yourself following along, then consider how you might like to experience your first sailing trip. The journey can be yours, almost however you want it!
Day 1: Mykonos
In Mykonos, right before sunset. When the sun goes down, things really heat up in Myknonos.
We spent the night at port, waiting for winds to calm before setting sail the next morning. Sherman and I walked to town from the pier, about a 20-minute stroll along the coastline. Mykonos is a crazy maze of tiny alleyways filled with restaurants, clubs and boutiques. Things get started late there, and after we had dinner and a couple stops for beers, we were ready to head back to the yacht. But it seemed like things were just getting started for most residents and other visitors. And this was about 11 p.m.!
I settled into my cabin, which is below deck and cozy but not cramped and with efficient storage space integrated into the design, for my first night's sleep onboard. (I'm 6-foot-4, so I moved cautiously the whole time I was onboard but still bumped my head almost daily.)
The next day, I got up, went for a run and swim at a nearby Agios Stefanos beach and then we set sail for Syros.
Day 2: Rineia and Syros
Now that's a good Greek lunch. We often ate onboard the boat during our time playing in a bay (limanaki).
Our...
Source: www.inthelooptravel.com
RELATED VIDEO
Best Cruises to See Hawaii
The Best Way to Enjoy the Greek Islands
Tours
Share this Post
Related posts
DECEMBER 08, 2023
The Greek islands are an incredibly popular tourist destination, with millions of Greek mainland residents and international…
Read More
DECEMBER 08, 2023
The Temple of Athena near Athens is one of Greece s best-known tourist attractions. (Photo: Images ) Related Articles With…
Read More