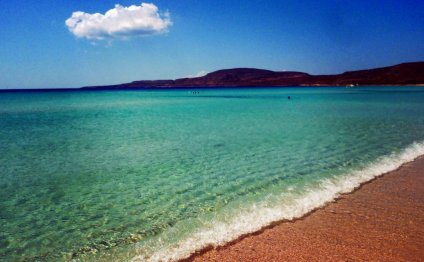 Getting Around the Greek Islands
By Rick Steves
For many people, Greece is synonymous with islands. If you need a vacation from your busy mainland Greek vacation, the islands exert an irresistible pull.
Explore a tight, twisty maze of whitewashed cubic houses with vibrant trim. Dig your toes into the hot sand while basking under a beach umbrella. Go for a dip in the crystal-clear, bathwater-warm Aegean. Nurse an iced coffee along a bustling harborfront, watching fishermen clean their catch while cuddly kittens greedily beg below. Dive into a succulent Greek salad at a rustic taverna, and chat with the big personality whose family has owned the place for generations, all while watching the sun gradually descend into the sea. Putter along remote-feeling roads across the spine of the island on a rented ATV, then drop down on a twisty lane to a desert-isle cove with an inviting beach. The Greek islands really do live up to their worldwide acclaim.
While I appreciate a healthy dose of restorative island time, I prefer to spend the bulk of my Greek vacation visiting the country's amazing wealth of ancient sights. That's why I've focused my Greece: Athens & the Peloponnese guidebook on the bustling capital of Athens and Greece's "heartland, " the Peloponnese, where — compared to the islands — prices are much lower, people tend to be friendlier, and travelers have more exciting opportunities to peel back layers of history. Still, a visit to Greece isn't complete without at least one island stay.
Greece's Island Groups
Greece's roughly 6, 000 islands and islets (227 of which are inhabited) are scattered far and wide across the eastern Mediterranean. Most are in the Aegean Sea (south and east of mainland Greece), while a few are in the Ionian Sea (west of the mainland). The islands are divided into distinct clusters:
The Ionian Islands, closer to Albania and Italy than to Athens, are Greece's northwest gateway to the Adriatic and the rest of Europe — they've had more foreign invaders and rulers (from Venice, France, Britain, Russia, Austria, and so on) than anywhere else in the country. The main island is Corfu (Kerkyra in Greek), with a bustling, architecturally eclectic main town and a lush, green islandscape dotted with attractions and beaches.
The Saronic Gulf Islands (Argosaronikos), conveniently wedged between the Peloponnese and Athens, ooze lots of island charm and give you a chance to get away from it all without actually going very far. Hydra, my favorite, is in this group.
The Sporades Islands, due east of Athens, are dominated by the giant Evia island, which is attached to the mainland by a bridge. Thickly forested and less touristed by international visitors, the Sporades are a popular and handy weekend getaway for Athenians.
The Cycladic Islands (or simply Cyclades) — a bit farther south, between Athens and Crete — are the prototypical "Greek islands, " boasting chalk-white houses with colorful windowsills and doorways; rocky, sun-parched landscapes; delightful beaches; old-fashioned white windmills topped with tufts of grass like unkempt hair; and an almost overwhelming crush of international visitors. Mykonos and Santorini are the two best and most famous of the Cyclades. Near Mykonos is the archaeological site of Delos (one of the most important locales of the ancient world).
The Dodecanese Islands, at the sunny, southeastern end of the Greek lands, are more rustic and less developed than the Cyclades. Their proximity to Turkey and historic ties to Venice give them a hybrid Turkish-Venetian flavor (though the population is mostly ethnic Greek, these islands merged with Greece only after World War II). Rhodes, with an appealing and very real-feeling Old Town, is the biggest of these islands.
The North Aegean Islands, relatively untrampled and remote-feeling, lie roughly between Turkey and Thessaloniki (at the northern end of mainland Greece). The southernmost of these, Samos, is a particularly handy springboard for Turkey, as it's very close to the Turkish port city of Kuşadası (near the remarkable ancient site of Ephesus).
Crete is Greece's biggest island and practically a mini-state of its own (in fact, from 1897 to 1913 it was an autonomous state within the Ottoman Empire). While many of Greece's smaller islands merit a day or two of fun in the sun, Crete could occupy even a busy traveler for a week or more. Historically, Crete was home to the Minoans — the earliest advanced European civilization, peaking around 1950 B.C., centuries before "the ancient Greeks" of Athens. While Crete's modern main city, Iraklio, is drab and uninviting, the rest of the island offers an engaging diversity of attractions: Minoan ruins, scenic mountains, enticing beaches, characteristic rustic villages, and dramatic caves and gorges (including the famous Samaria Gorge).
Choosing an Island
Hydra is my favorite, thanks to its speedy connections to Athens and the Peloponnese, its relaxing car-free ambience, its easily reached beaches, and its charming harbor that invites you to just linger. Arguably the two most popular Greek islands are Mykonos and Santorini; both are relatively well-connected to Athens. Mykonos is an adorable, windmill-topped fishing village slathered in white and thronged by a hard-partying international crowd, enjoying its many beaches and side-tripping to the ruins on nearby Delos. Santorini is the most geologically interesting of all the Greek islands, and arguably the most picturesque, with idyllic villages perched on the rim of a collapsed and flooded volcano crater.
fashion be
ave p salon
coffee places in newton ma
science law
astronomy music
hotel haircut
our fashion
lifestyle space
fashion team
science news for students
vedic astrology signs dates
3 haircut
fashion do's and don't
i will do science to it
power haircut
constellation of june
stars and strikes
food lifestyle
janet hair salon
women's haircut near me
fashion oil
list of hairstyles male
chic & contemporary women's clothing
how does fashion
what new in science
again coffee
data trend
coffee job
starship enterprise d
star being born in next few years
lifestyle news
charming winter outfits
da haircut
house coffee
live haircut
science 30
supercuts hair color review
care coffee
haircut film
science area
coffee care cup
3 celestial bodies
fashion 4 all
art trends
science do now
women trends
what in fashion
Source: www.ricksteves.com
RELATED VIDEO
Yachting around the greek islands.
Ripping around the Greek Islands on Scooters like a BOSS
Greek Islands.
Share this Post
Related posts
DECEMBER 06, 2023
Find out more about Planning to travel to Greece this summer? You might still be questioning the destination as the choice…
Read More
DECEMBER 06, 2023
By John Roberts A highlight of my 2015 travel itinerary was my planned trip to sail in the Greek islands. I placed this on…
Read More