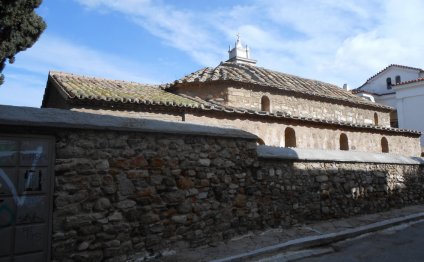 Athens Greece historical sites
The Acropolis. This hill was a sacred site for ancient Athenians. At the top you can view the ruins of three temples built in the 5th century BC: the Parthenon, the Temple of Athena Nike and the Erechtheion. To reach the plateau, you must enter through a monumental gateway, the Propylaea, also built in the 5th century BC. From the top of the Acropolis, you get a sweeping view of Athens and the Saronic Gulf. The path leading up to the Acropolis is off Dionysiou Areopagitou Street.
Parthenon. The largest building on the Acropolis and one of the world's most awe-inspiring man-made sights. Except for its roof, which was made of wood, the Parthenon was entirely constructed of marble. Most of the artifacts from the temple are housed in the Acropolis Museum nearby.
Odeon of Herod Atticus. This amphitheater, which can be viewed only from the Acropolis, was built by the Roman ruler Herod Atticus in AD 161 It's now used to host the summer Athens Festival.
Keramikos Cemetery. A short walk from the Plaka and the Monastiraki area, this site is where the most important ancient Athenian citizens were buried.
Dionysos. The oldest Greek theater, built in the 5th century BC, is just below the Acropolis. It's the first archaeological site you'll see as you walk up Dionysiou Areopagitou Street from Hadrian's Arch. The plays of Aristophanes, Euripides, Aeschylus and Sophocles were first performed there. The theater held some 17, 000 spectators.
Source: www.travelinfo.gr
RELATED VIDEO
Tour Around Athens on the Mini Train | Greece
Athens | Ways to Visit the Historical Center
The National Historical Museum in Athens Greece
Share this Post
Related posts
DECEMBER 06, 2023
The Athens Historic House Museum Association offers a collective ticket for an interior tour of four House Museums through…
Read More
DECEMBER 06, 2023
The Acropolis with its rich history and archaeological significance has become the embodiment of all ancient Greek ideals…
Read More